Homeowner satisfaction with new homes remains high according to latest HBF Customer Survey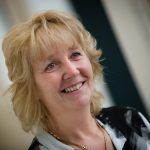 Carol Brady
The results from latest annual Home Builders Federation (HBF) Customer Satisfaction Survey demonstrate that delivering high levels of customer service is an absolute priority for home builders. Findings from the 2016/17 survey show 90% of new homebuyers surveyed say they would buy a new build home again; whilst over 86% say they would recommend their home builder to a friend – a 2% year-on-year increase.
Other key findings include:
85% new home buyers were happy with the quality of their new home
81% were happy with the service provided during the buying process
Satisfaction with the handover process and information given by the home builder on the day of moving was 83% in both cases
92% were happy with the internal design of their new home
87% were happy with the external design of their new home
Customer satisfaction levels for new homes compare favourably with any other industry or product, and helps to explain why demand for new homes continues to increase.
Over the past four years housing supply has increased by 74%. As a result, this year saw 93,000 surveys sent out, an increase of 60% on three years ago, with 62% being returned.
The annual HBF survey is one of the most comprehensive, large scale surveys of its type carried out in the UK. It began in response to recommendations in the Barker Review of Housing Supply in 2004 and is a self-completion census of new home purchasers.
Since its launch well over half a million survey returns have been received making it one of the largest continuous industry research exercises in the country. This year's survey covers the 12 months from October 2016 to September 2017. Of the 93,444 questionnaires sent, 57,972 were returned, a response rate of 62%, an outstanding response to a hybrid email and postal survey, compared to other consumer surveys.
Since the survey was launched more than a decade ago scores in all question areas have improved significantly. The survey has provided a barometer for the industry and for individual builders to gauge performance and drive improvements.
For more detailed findings, including star ratings by home builder, download the HBF survey report summary here https://www.hbf.co.uk/documents/7471/HBF_CSS_Brochure_2018v2.pdf
The Home Builders Federation supports the Consumer Code for Home Builders – consumercode.co.uk