Consumer Code for Home Builders supports the CCAS "look for the scheme logo" campaign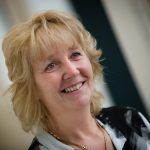 Carol Brady
The Consumer Codes Approval Scheme (CCAS) aims to improve customer service standards by the approval and promotion of codes of practice through code sponsors, approved by the Chartered Trading Standards Institute (CTSI).
As an approved CTSI Consumer Codes member, the Consumer Code for Home Builders is proud to support a new campaign by the CCAS to encourage consumers to look for the CCAS logo before engaging any tradespeople or companies to carry out work for them.
All CTSI-approved code members operate under a sector-specific code of practice and must demonstrate that they are committed to the highest levels of customer service.
Consumers can check the CCAS member's list online at: https://www.tradingstandards.uk/consumers or simply look out for the CCAS logo. As a relatively new member of CCAS, not all our builders covered by our Code will be listed directly, but if in doubt, check with the warranty provider covering your home. If your home is being protected by NHBC, Premier Guarantee, LABC Warranty or Checkmate, your home builder is covered by our Code and sits under the CCAS scheme.