Consumer Code for Home Builders launches 'Train the Trainer' system to fast-track customer service improvements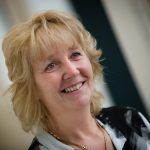 Carol Brady
The Consumer Code for Home Builders (CCHB) has launched a new training package designed to help its 16,000 members improve customer service when it comes to selling new homes. Called 'Train the Trainer', the system provides the skills and resources needed to allow developers to run group training sessions in-house.
The CCHB's online training package is designed to ensure those involved in the sale of new homes understand the expectation of the Consumer Code for Home Builders and are clear on how to support consumers through the home buying process.
With house building on the rise, developers have been keen to find ways to share the training more widely across their organisations. The new 'Train the Trainer' package provides a full suite of course materials, including a presentation, delegate handouts and guidance notes, to equip staff with the knowledge and content required to run a group training session. The package has been piloted among approximately 50 Bellway Homes staff across two regions, and the response has been very positive.
Maria Seed, Group Sales Director from Bellway Homes said: Providing excellent customer service is very important to us and as part of this, it's essential that our people have the skills and knowledge they need to ensure we are complying fully with the Consumer Code. Using the 'Train the Trainer' package means we've been able to equip a small group within our team to carry out Consumer Code training, so that they can share important skills and knowledge across our organisation.
Noel Hunter, Chairman of the Consumer Code for Home Builders, said: "Our training package has been very popular since its launch, but requires individuals to undertake the training online. By developing a 'Train the Trainer' package, we've made the training more accessible to sales teams who can learn together, improving consistency across their organisation. This is good news for consumers as training will improve compliance with The Code which is there to protect the rights of home buyers."
Feedback from the pilot shows that the training "was clear to understand and informative and at the correct level" and "well presented to allow the information to be communicated effectively".
'Train the Trainer' is now available to all members of the Consumer Code for Home Builders, which covers approximately 90% of the new homes market. For a free copy please contact the Code's secretariat Carol Brady at secretariat@staging-consumercode.kinsta.cloud