Ten Years of the Consumer Code: Reflections from our Chairman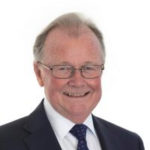 Noel Hunter
By Noel Hunter, Chairman, Consumer Code for Home Builders
I was appointed as Chairman of the Consumer Code for Home Builders when the Code was in its infancy back in 2010. NHBC and MD Insurance Services had begun to develop the Code and wanted an independent chair to add rigour and provide a consumer focus across all aspects of the Code's work. At the time, I was the Vice Chairman of the Property Ombudsman and Vice President of the Chartered Trading Standards Institute and had worked for many years in the field of consumer advocacy. I was delighted to be appointed as Chairman of the Code, but aware we had real challenges ahead. Consumer confidence in new-build homes was low and both the national media and government were putting pressure on the industry to improve.
My ambition at the outset was to work with my colleagues to improve consumer confidence in new build homes and to embed the Code's customer service requirements throughout the sector. As a first step, we appointed the Centre for Dispute Resolution (CEDR Ltd) to provide our dispute resolution service. While input from the industry is incredibly important in ensuring that changes and improvements are realistic and deliverable, it is essential that disputes were handled entirely independently from the industry. More recently, we have enhanced our Independent Dispute Resolution Scheme to act exactly like an Ombudsman, with free access for consumers.
Introducing regulation
In my experience, if you really want to effect change, you have to tackle the problems at their source, not just focus on rectifying damage. That's why I have always been keen on regulation to support compliance with the Code's customer service requirements. This began with market research using mystery shoppers who went into sites and trade premises. Although the insight provided was useful, we wanted a more robust approach. We moved to independent site inspections carried out by teams of former Trading Standards Professionals in 2018, alongside desktop audits, all of which feed into our Disciplinary and Sanctions Panel. This panel is independently chaired, with a majority of members being independent of the industry so that consumer advocates make the final decision on disciplinary action.
Our Independent Disciplinary and Sanctions Panel writes to the chief executives of every developer – large or small – following a complaint, to encourage support for improving customer service at the highest level. In cases where there have been serious breaches which builders have refused to put right, they have been removed from our member warranty schemes, effectively preventing them from trading. This is a serious deterrent which we have only needed to resort to in a handful of cases to date.
Achievements and next steps
I believe there has been a sea change in attitudes within the industry during the last decade, and there is a genuine desire to get things right for the consumer. I'm proud that the Code has contributed to a rise in consumer confidence – 87% of home buyers would now recommend their builder compared to 46%[1] pre the introduction of the Code.
I was also pleased to see that compliance with the Code became a requirement in England and across the Devolved Administrations, for those builders operating under the 'Help to Buy' schemes, which operates to support first time buyers.
The creation of a totally independent dispute resolution service has helped hundreds of consumers, and our Disciplinary and Sanctions panel, which has operated for four years, has built in further rigour.
The Code has achieved industry recognition and support – including approval from the Chartered Trading Standards Institute – and has expanded to cover 95% of all new build homes. We've been working proactively with government to help strengthen redress and look forward to working with the New Homes Quality Board as they build on the progress we have made.
Undoubtedly, there is still much work to be done. Effecting change in an industry involving over 10,000 builders, ranging from those that build two houses a year to those building 20,000, is far from straightforward. But on the whole the industry is showing commitment to putting quality and customers first. With a well-trained workforce and sanctions for those who continue to deliver poor service, I am confident we will continue to see a rise in satisfaction with new build homes.
[1] source: https://www.hbf.co.uk/documents/8389/CSS_HBF_Brochure_2019_with_table.pdf
---