Carol Brady MBE appointed as Chief Executive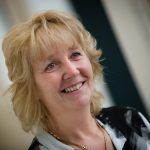 Carol Brady
Consumer and regulatory specialist, Carol Brady MBE, has been promoted to the new post of Chief Executive of the Consumer Code for Home Builders (CCHB) in line with the organisation's strategy to strengthen its focus on supporting consumers.
The Code is a Chartered Trading Standards Institute Approved Code of Conduct designed to improve the new home buying experience for consumers. Since its inception, the Code's Board has been working on ways to strengthen the impact of the Code in improving standards in the industry and giving home buyers access to independent redress should something go wrong.
Carol Brady has extensive experience in consumer and regulatory policy and has been providing Secretariat services for the Code since May 2014. Prior to working with the Code, she was previously the Chair of the Board of the Chartered Trading Standards Institute and was awarded an MBE in June 2016 in recognition of her services to consumers and better regulation. She is a Fellow of the Chartered Trading Standards Institute, and her current advisory roles include non-executive Chair of the board of the Claims Management Regulation Unit for the Ministry of Justice and Chairman of the Guardians of the Standard of Wrought Plate in Birmingham.
Carol Brady's promotion to Chief Executive forms part of the CCHB's strategy to strengthen its service to consumers, which in recent months has also seen accreditation by the CTSI Consumer Codes Approval Scheme, improvements to the Independent Dispute Resolution Scheme, and the appointment of independent auditors to assess compliance with the Code.
Noel Hunter OBE, Chairman of the CCHB, said: "We are delighted to have appointed Carol Brady as Chief Executive of the Code. Having worked with the Board as Secretariat for nearly five years, this new position reflects the value Carol brings to the organisation, as well as our desire to maximise the benefits of her consumer affairs and trading standards experience in further developing the CCHB's role in supporting buyers of new homes."